"I'm Peter Sam, I'm runing this line, I'm Peter Sm, I'm runing this line, What Fun!"
— Peter Sam, Peter Sam and the Refreshment Lady, Season 4.
Peter Sam
is named after Mr. Percival's Dad (Peter "Samuel" Percival) and is Very Kind and Much Better Behaved Then
Sir Handel
.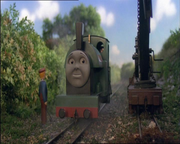 Ad blocker interference detected!
Wikia is a free-to-use site that makes money from advertising. We have a modified experience for viewers using ad blockers

Wikia is not accessible if you've made further modifications. Remove the custom ad blocker rule(s) and the page will load as expected.