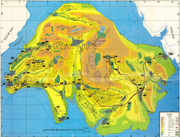 Sodor
is the island that all the engine live on. It is situated betwwen England and the Isle of Mann.
In 1987 Wilbert Awdry and George Awdry published "The Island of Sodor: Its People, History and Railways".
Railways
Trivia
In an interview, it was revealed that the Rev. W. Awdry's house name was Sodor.
Ad blocker interference detected!
Wikia is a free-to-use site that makes money from advertising. We have a modified experience for viewers using ad blockers

Wikia is not accessible if you've made further modifications. Remove the custom ad blocker rule(s) and the page will load as expected.