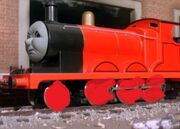 The Not-named Engine
is a "Mystery" Engine                   
Not a lot is known about the Red Engine, Although he is James' twin and no longer lives on Sodor he was either scrapped or works on a railway on the mainland now. It is currently unknown why he was sent away.
It is currently unknown where The Red Engine's model is.
Ad blocker interference detected!
Wikia is a free-to-use site that makes money from advertising. We have a modified experience for viewers using ad blockers

Wikia is not accessible if you've made further modifications. Remove the custom ad blocker rule(s) and the page will load as expected.