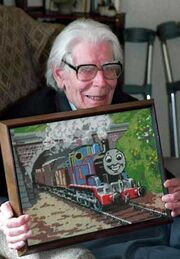 Wilbert Awdry
(born June 15th 1911) is the very person who is the creator of The Railway Series. he was the author of the first twenty-six books. These were used as the basis for
Britt Allcroft
's television series
Thomas the Tank Engine and Friends
. Although he liked Season 1 and Season 2, he did not like some of the adaptions from Season 3 and Season 4, especially
Henry's Forest
 (due to he did not like the trees being cut down) and
Rusty to the Rescue
, that is most likely seeing to him as the taking over his story 
The Bluebells of England
. Wilbert Awdry, Better known as the "Reverend W. Awdry", he was a clergyman, keen railway enthusiast, and children's author.
He sadly died on March 21st 1997 at the age of 85.
Appearences
Specials
Family and Friends
He is likely to be friends with Britt Allcroft, David Mitton and Michael Angelis
Ad blocker interference detected!
Wikia is a free-to-use site that makes money from advertising. We have a modified experience for viewers using ad blockers

Wikia is not accessible if you've made further modifications. Remove the custom ad blocker rule(s) and the page will load as expected.